Wren Howard, President
Singing with Meridian Women's Chorus since 2003 has been a great joy for me. I love to sing but most of all I love to sing with others. There is nothing comparable to singing with a chorus. I do think music is food for the soul!
Julia Shore, Treasurer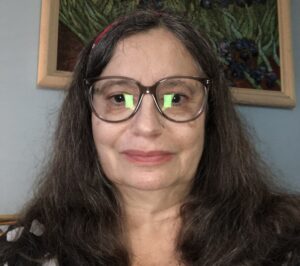 I started choral singing over 30 years ago when I saw an ad in the newspaper for a new local group, the Windham Theatre Guild Broadway Chorus. Over the years I've performed in many venues in Connecticut, New York, and Georgia, including a wonderful adventure at Carnegie Hall. Since moving to Georgia I have sung with the Athens Choral Society, the Athens Symphony Chorus, my synagogue choir, and, of course, Meridian. I have also sung in a number of local musical theatre productions. I started taking voice lessons in my 60s and have found them very helpful. I will sing as long as I can.
Singing in a group always lifts my spirit. Studies have even shown singing in a group activates the same areas of the brain as praying does. I volunteered to be treasurer so I can give back to the community. I live in Athens with my husband and our daughter, plus four cats and one dog. Although I retired from a long career as a pharmacist, I still work part-time in that field. Singing, however, is my retirement passion, and the journey all started with an ad in a local newspaper!
Janet Rodekohr, Librarian/Publicity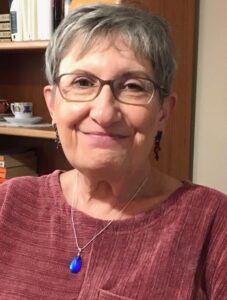 I've been singing since school days in Nebraska and have looked for choirs to join throughout my life, whether they were school, church or community groups. I also sing with the Athens Chamber Singers and have traveled abroad to international music festivals; I've also performed at the Spoleto Festival in Charleston with the Friendship Community Choir. I have been a member of Meridian for about ten years. My professional career involved writing news and creating marketing plans for the UGA College of Agricultural and Environmental Sciences. Since my retirement, I have taken up watercolor. My work has been accepted into several shows and has even won a few awards.
Angela Helwig, Secretary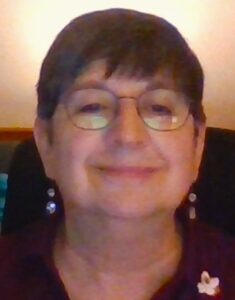 I grew up in Virginia and have lived and worked in both Pennsylvania and Georgia. I recently retired from my job as an administrator for the Oconee County Senior Center. I have always loved singing and am so happy to be singing with Meridian! My husband, Steve, and I are also very active with the Georgia Lions; I am the District Cabinet Secretary (he is the District Governor) and I also edit the Lions District newsletter and the state-level newsletter for the Lions of Georgia. Other retirement activities include reading, writing, playing mahjong, cooking, eating out, and spoiling our sweet dog, Missy. Like most retirees, however, my absolute favorite time is spent with our children and grandchildren; we travel regularly to visit them.