Classic City Band's
Memorial Day Weekend Concert
Sunday, May 28, 2023 4 pm at the Performing Arts Center at Jefferson High School
This afternoon a group from Meridian Women's Chorus sang at the Classic City Band's Memorial Day Weekend Concert. It was a wonderful concert and we were so glad for the opportunity to contribute. Many thanks to Director Michael Brewer for the kind invitation!
Special thanks go to…Altos: Lorraine Downie; Janet Rodekohr; Angela Helwig; Susan Garrett; Linda Tiller; Barbara Rodgers; Betsy Vonk; Jennifer Saye; and Gabrielle Mason…
…and Sopranos: Cass Robinson; Ellen Ritchey; Nova Todd; Kathy Carter; Peggye Thornburg; Denise Gabriel; Cindy Vail; Wendy Arthur; and Pauline Rakich.
We also thank soprano Terri Tillman for joining us for the event (Michael Brewer is her husband so she was very glad to sing).
Note: I apologize to anyone who didn't make it into a photo; the lighting was very bad for photography so many photos went to the trash despite attempts to fix them. If you have any photos to add, please send them to meridianathensga@gmail.com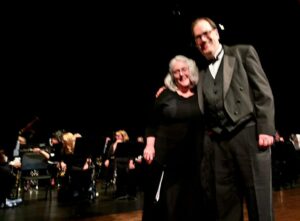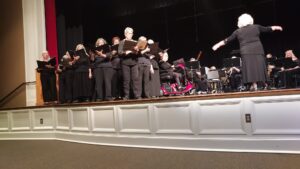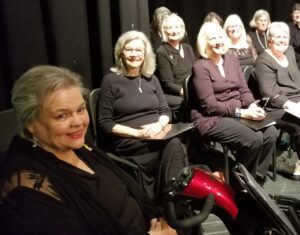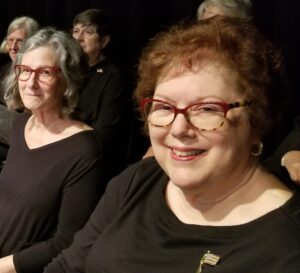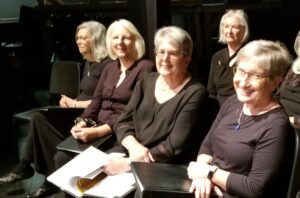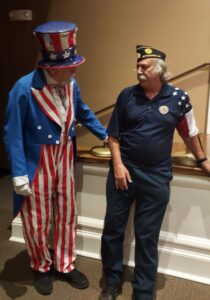 Spring Concert: Mother Earth and Her Gifts
Sunday, April 30, 2023 4 pm at Friendship Presbyterian Church
We had such a great concert–the room was SRO and we all had a wonderful time!
(See Past Concerts page for more information about the program)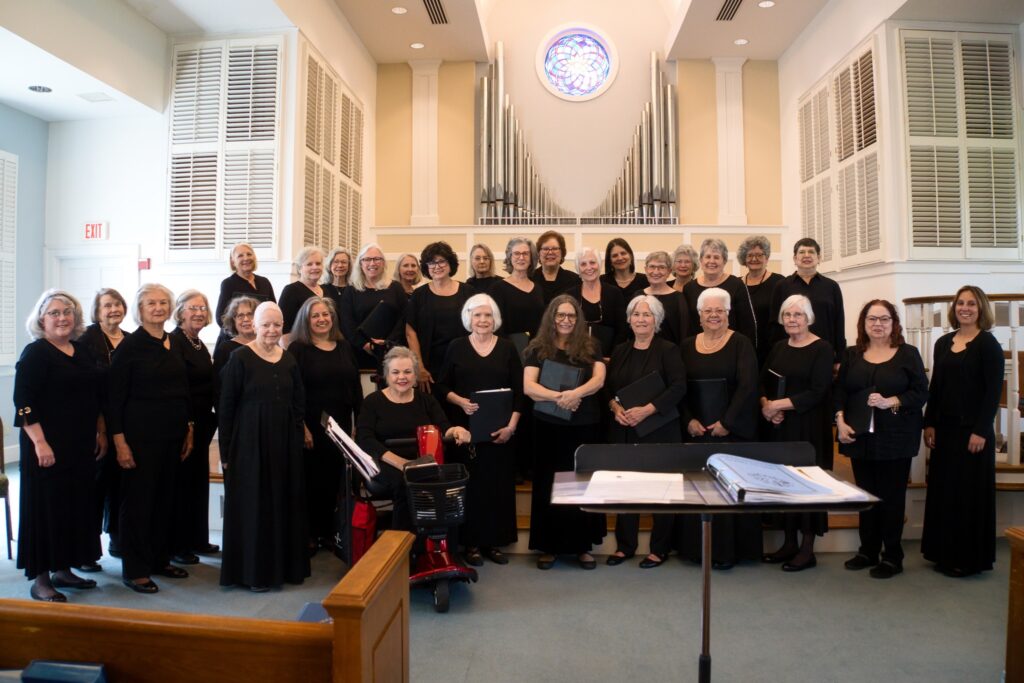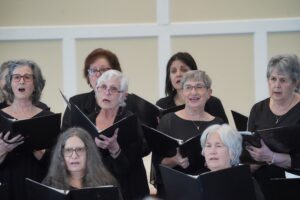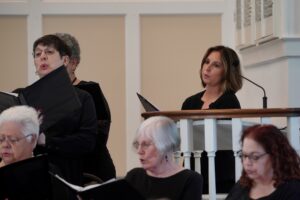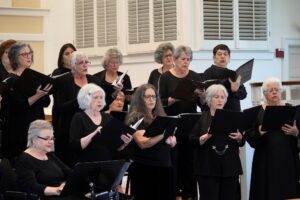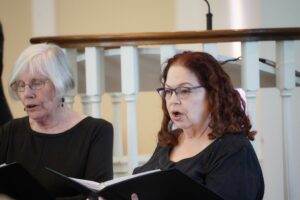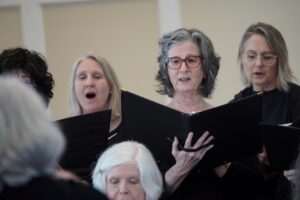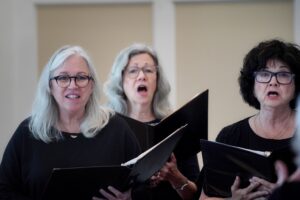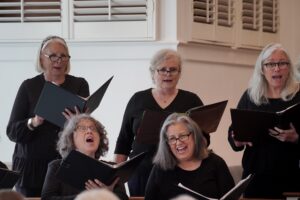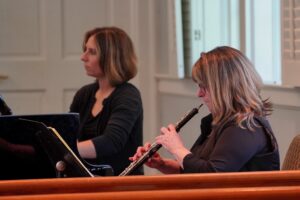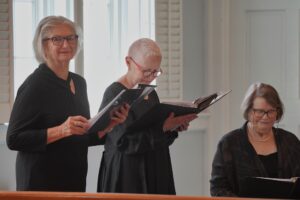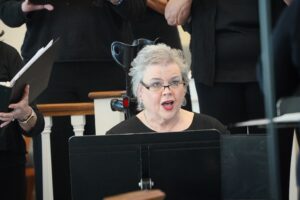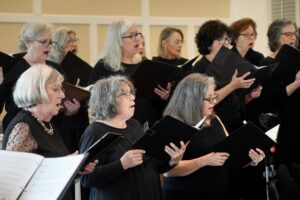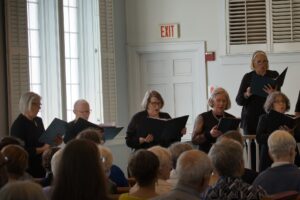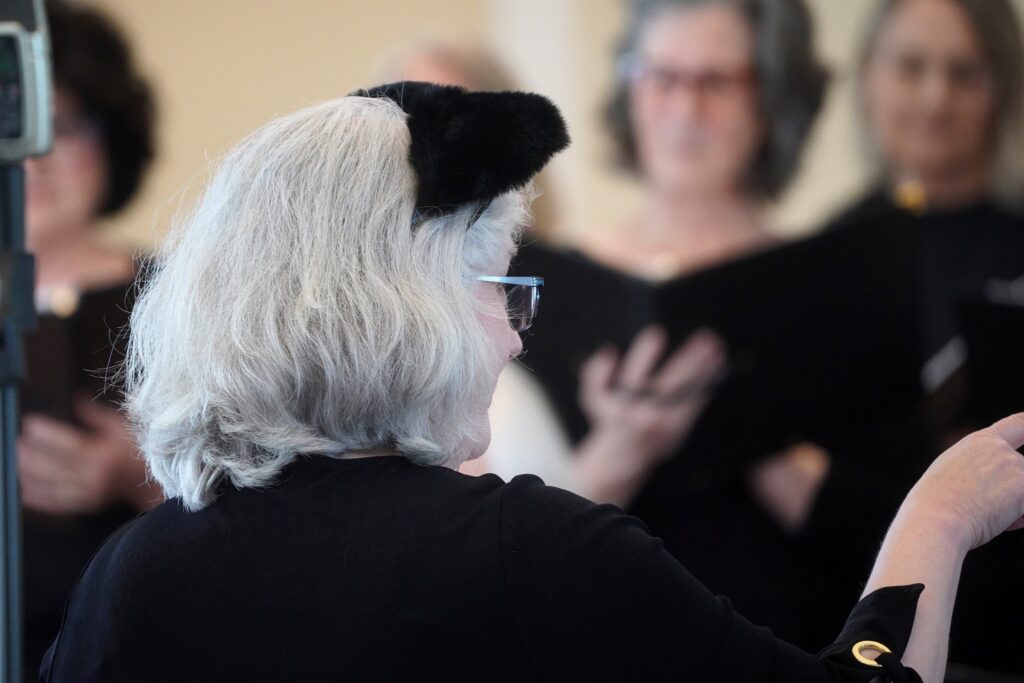 Cats!
In honor of Roger Vogel's The Nature of the Cat, we present Meridian Cats…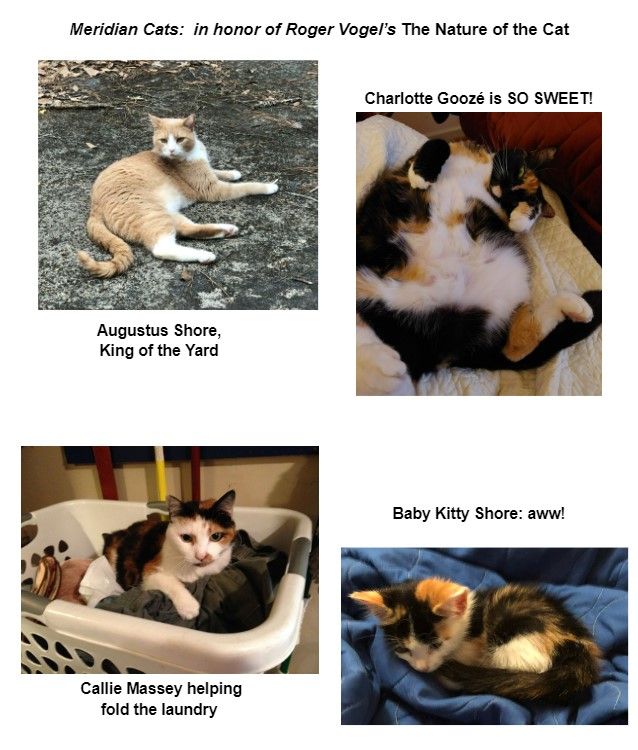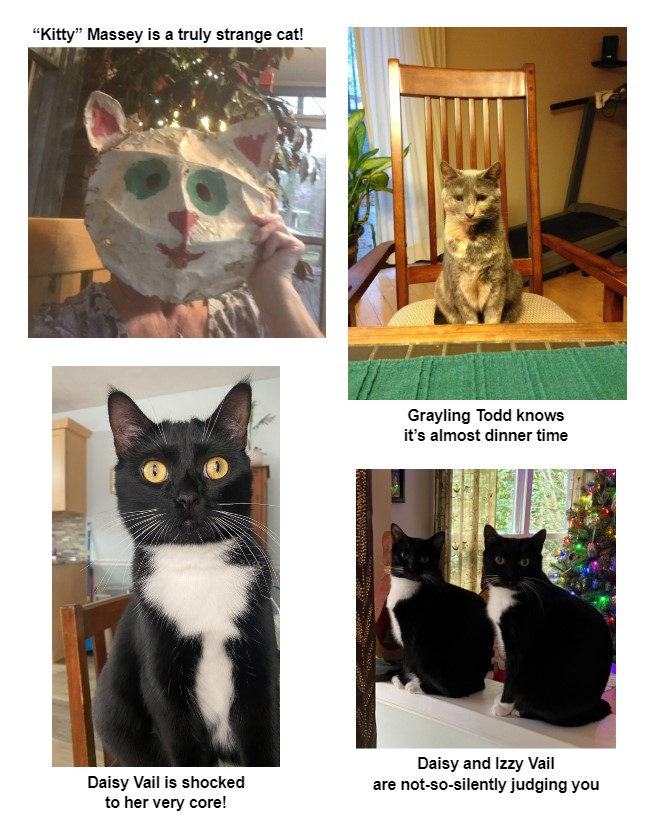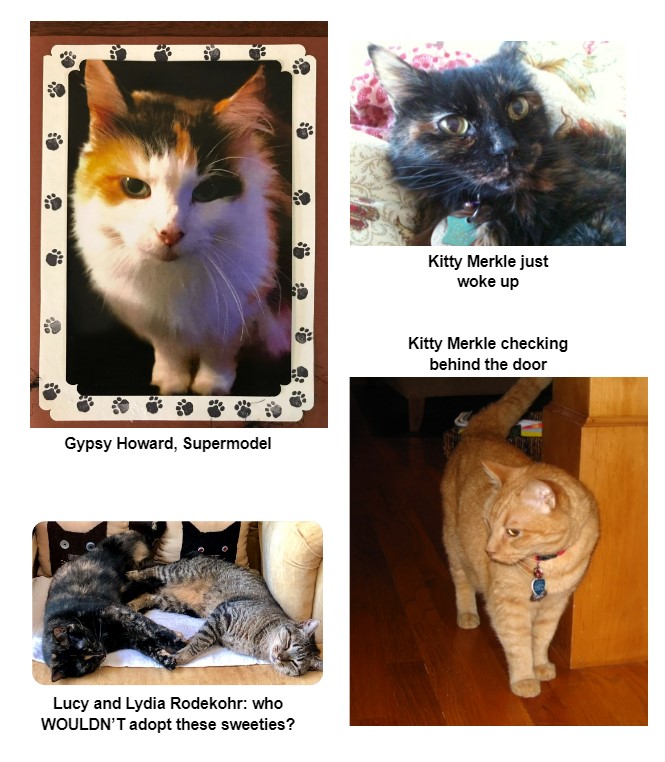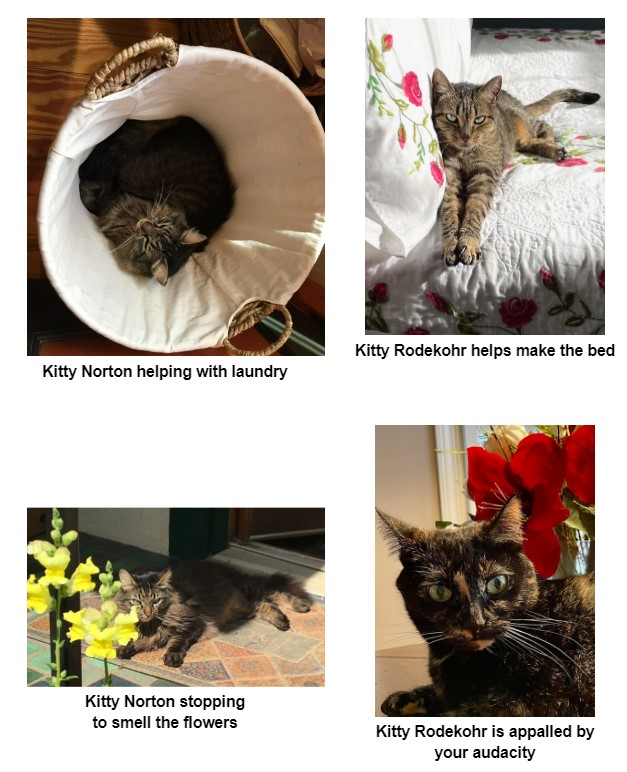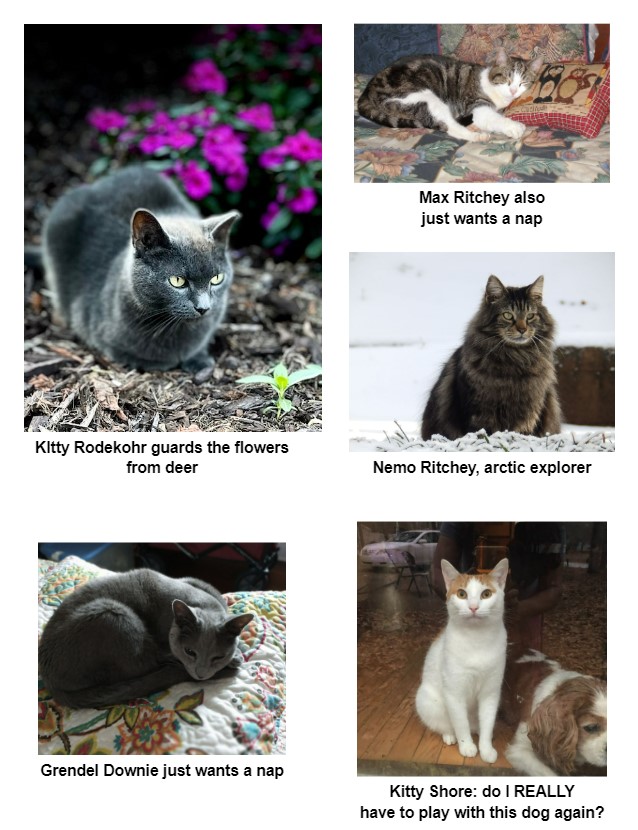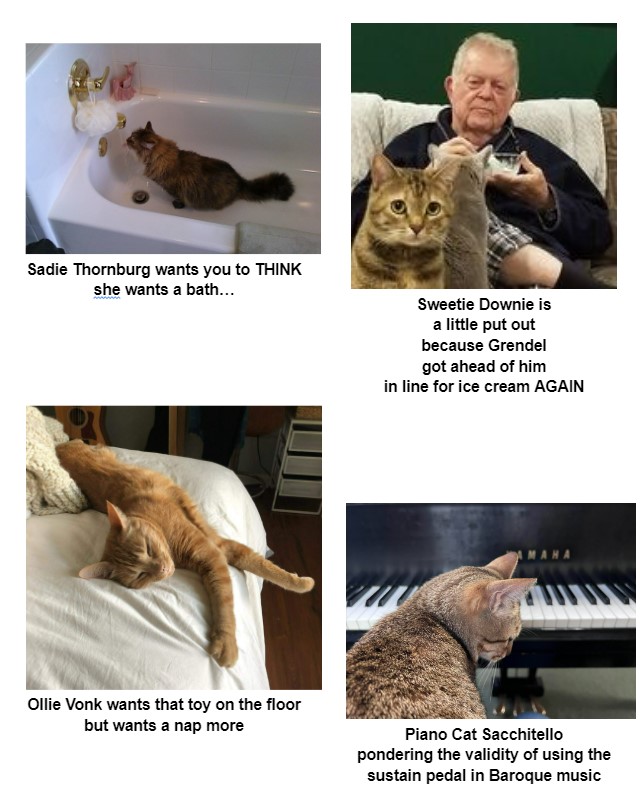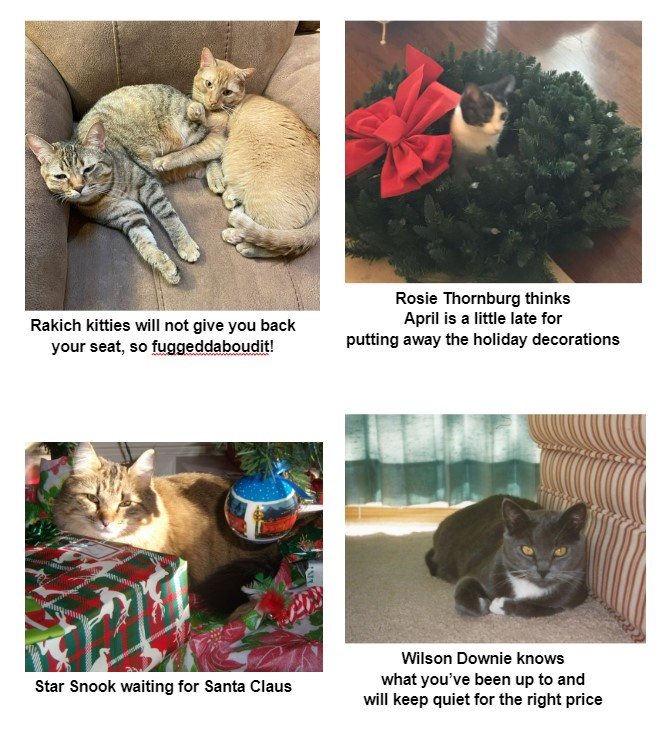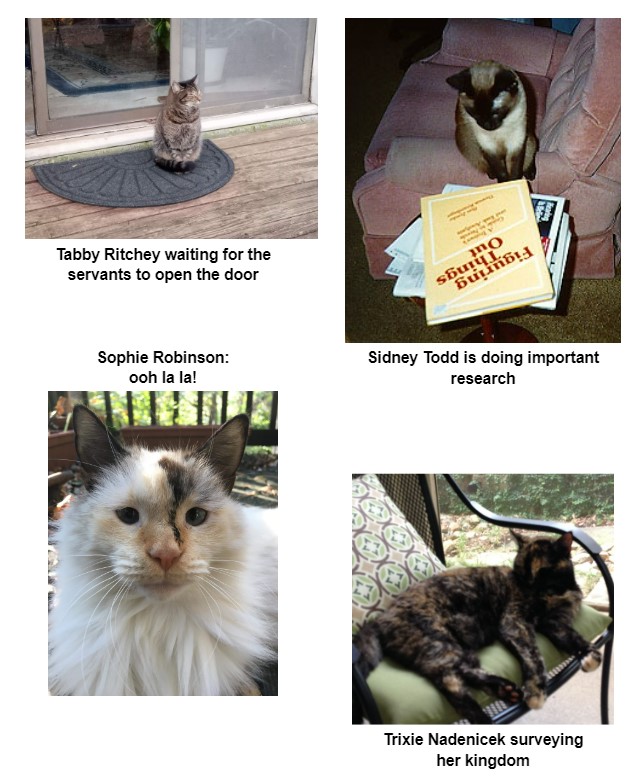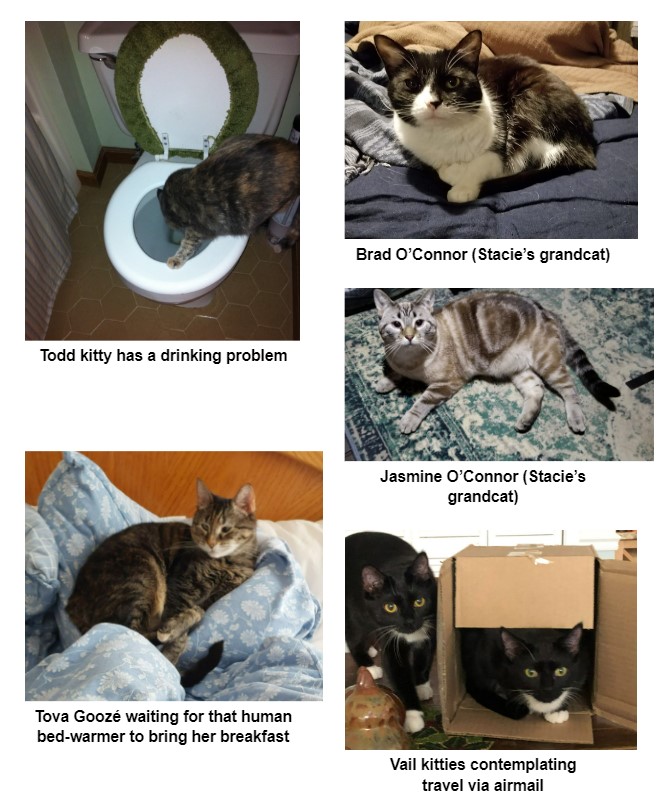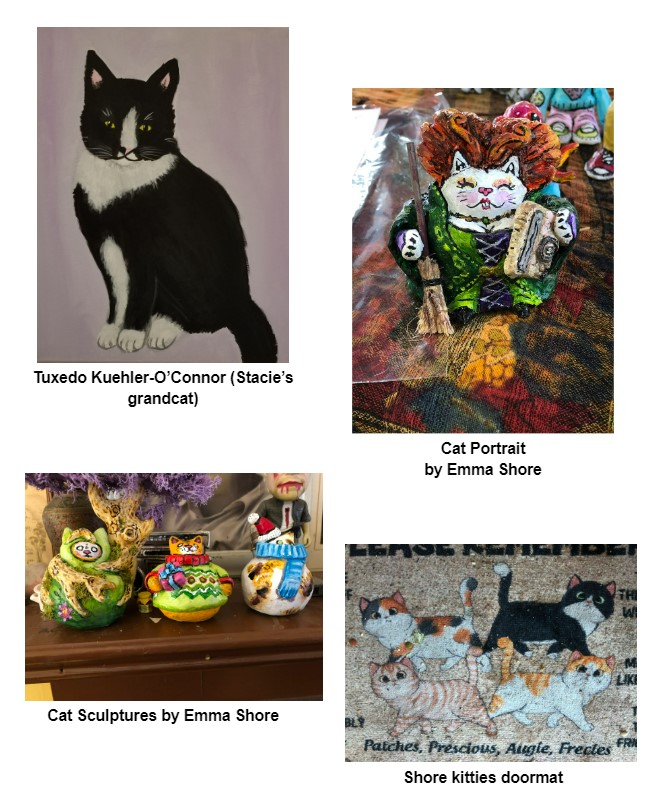 Soprano and Alto Sectionals, March 20th and 21st, 2023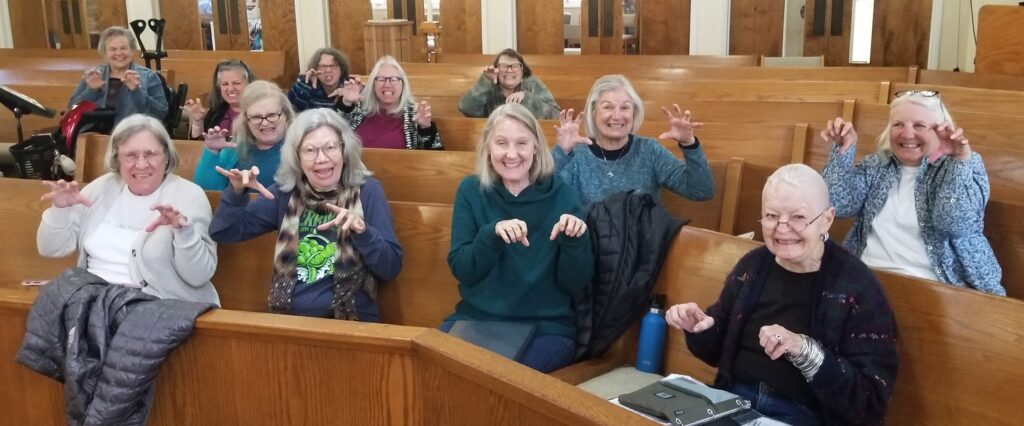 Composer Visits: Thursday, February 23, 2023 and Thursday, March 2, 2023
WOW! We were so lucky to have composer visits TWO WEEKS IN A ROW!
On February 23rd composer Sally Coenen came to our rehearsal to talk about the piece she arranged for us, "A Thousand Thanks". This piece was originally written for solo soprano and piano; this past fall Stacie and Sally talked about how the text would be so perfect for a piece for women's chorus…and Sally arranged it as a gift to us! A thousand thanks go out to Sally…we're really looking forward to singing it in our spring concert on April 30th.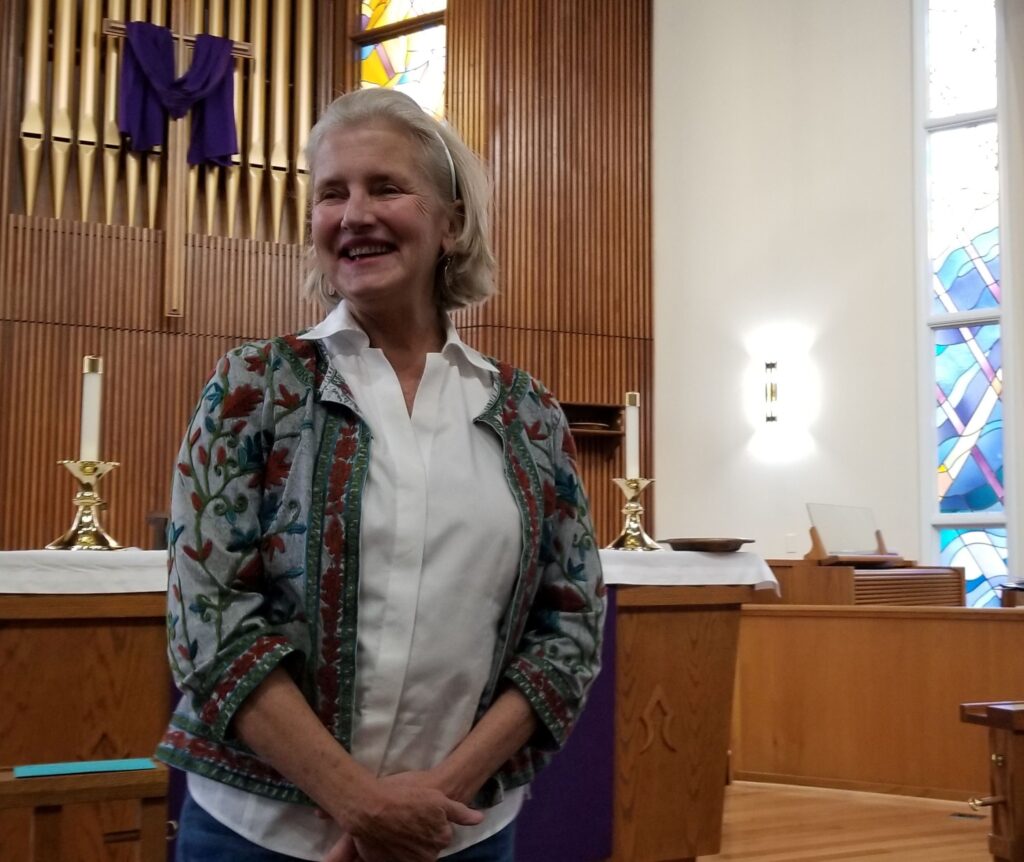 On March 2nd we welcomed composer Roger Vogel to our rehearsal. Roger has given us the use of his song cycle The Nature of the Cat for our upcoming spring concert. We were very interested to hear about his process for researching and writing, and also about his experiences playing harmonica as well. In addition, he talked about the changes in technology over the years, and showing us the kinds of calligraphy pens he worked with back in the 70s and 80s. It was a great visit, and we are working hard to do his wonderful, comical piece justice!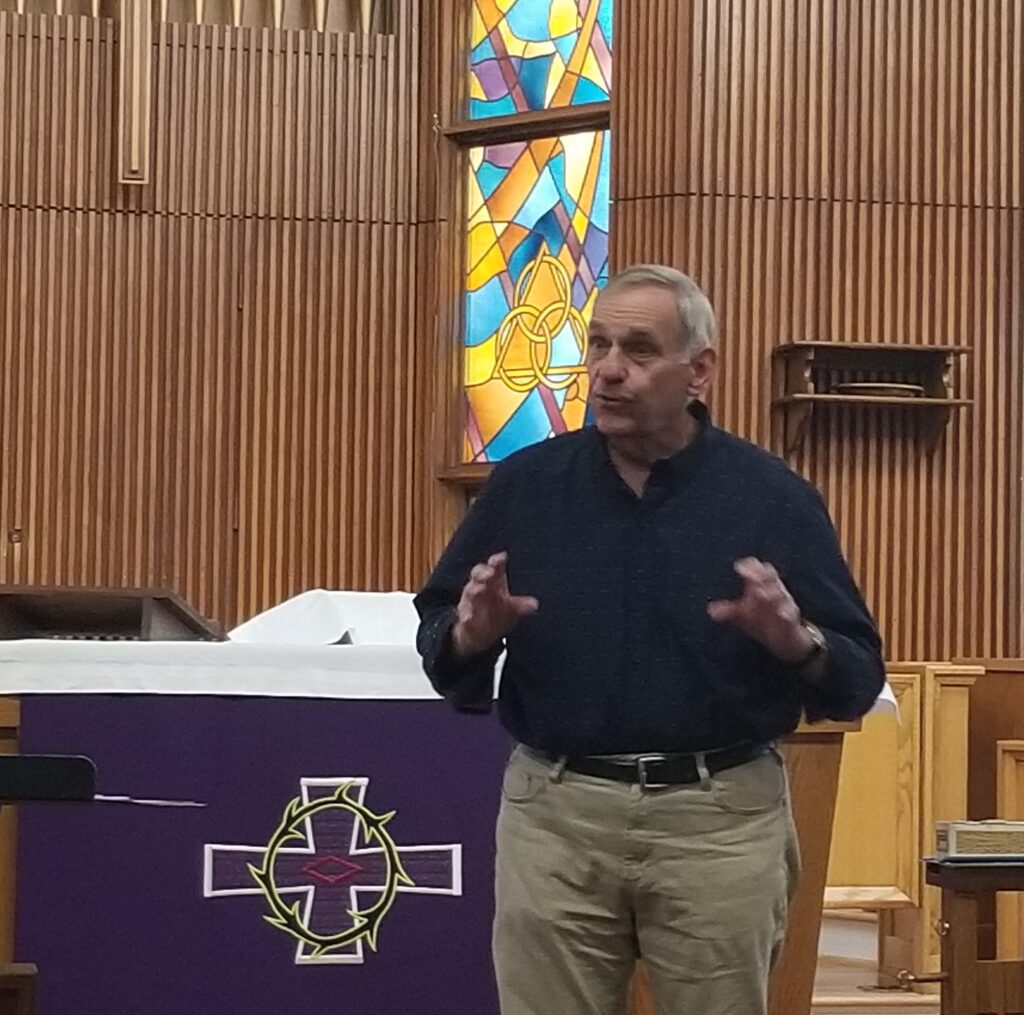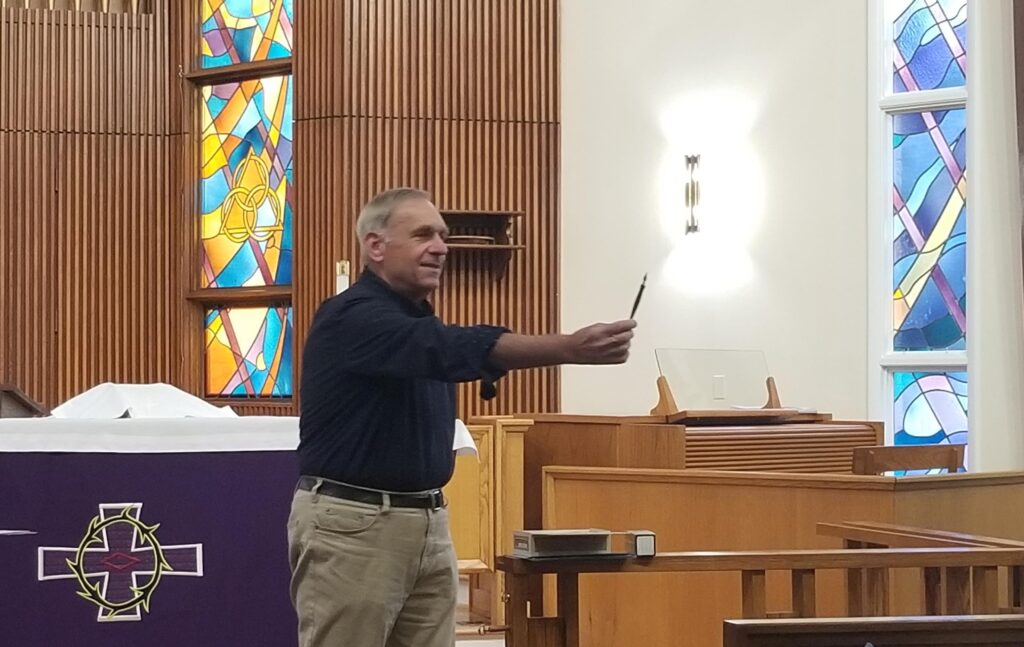 Lunch and a Movie: Thursday, January 12, 2023
We had a great lunch together, watched the movie Florence Foster Jenkins, and picked up music in advance of next week's rehearsal–what a great afternoon!
Many thanks to Whit Richardson and Taziki's Cafe for donating Mediterranean Salad and fixings for all of us–YUM!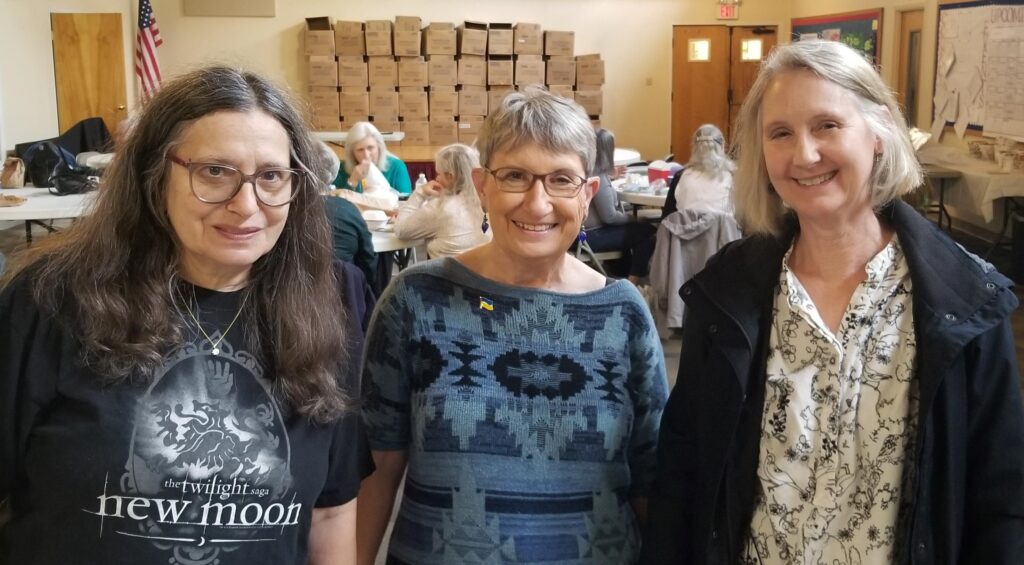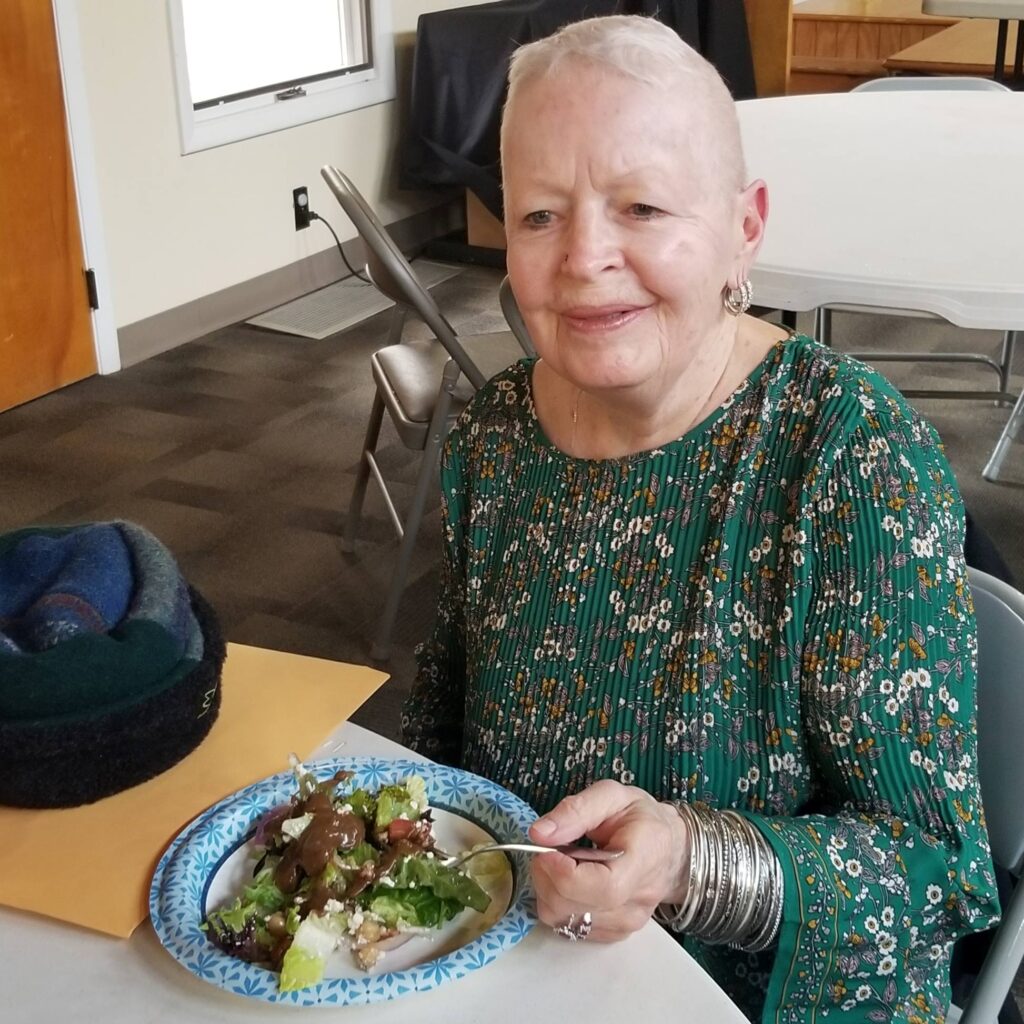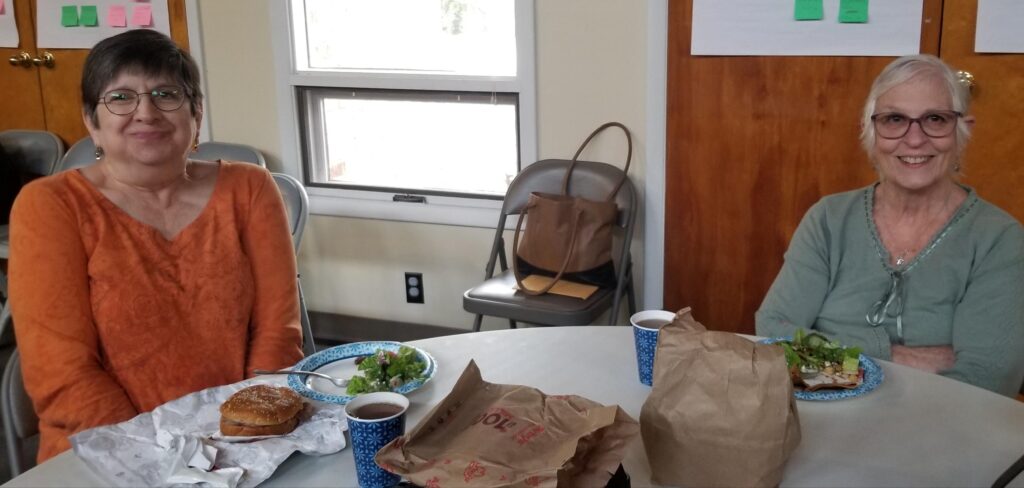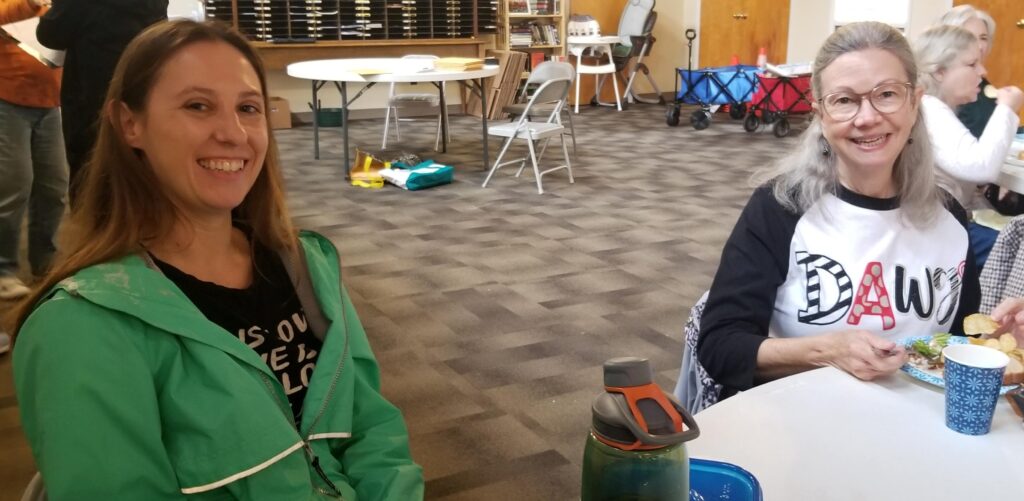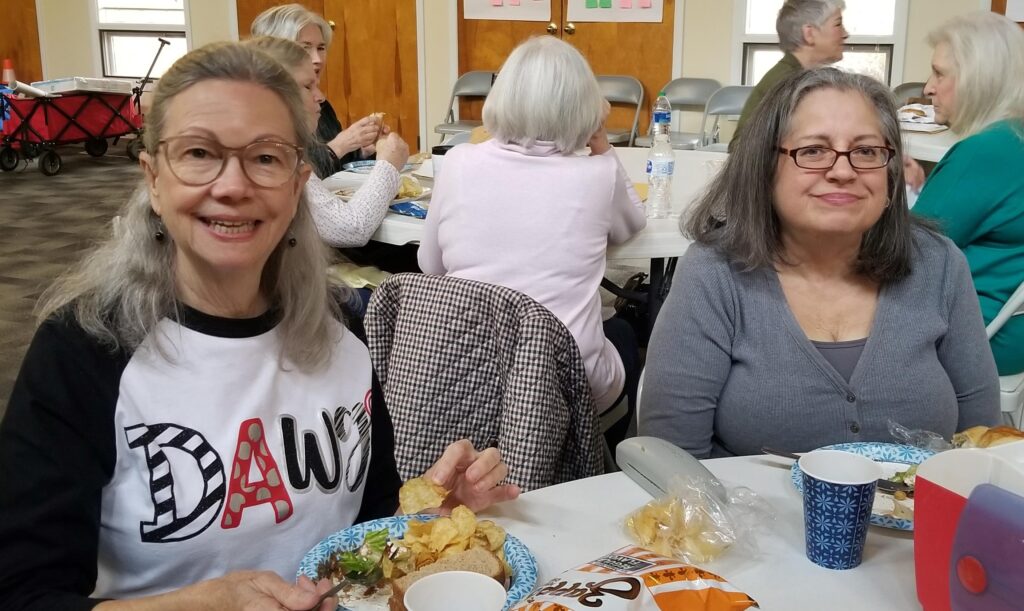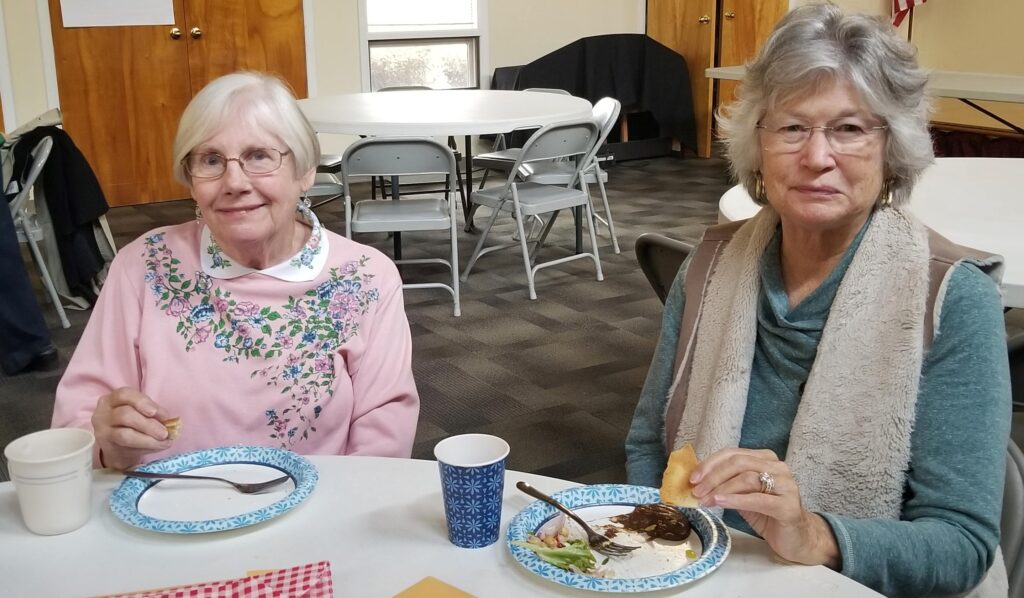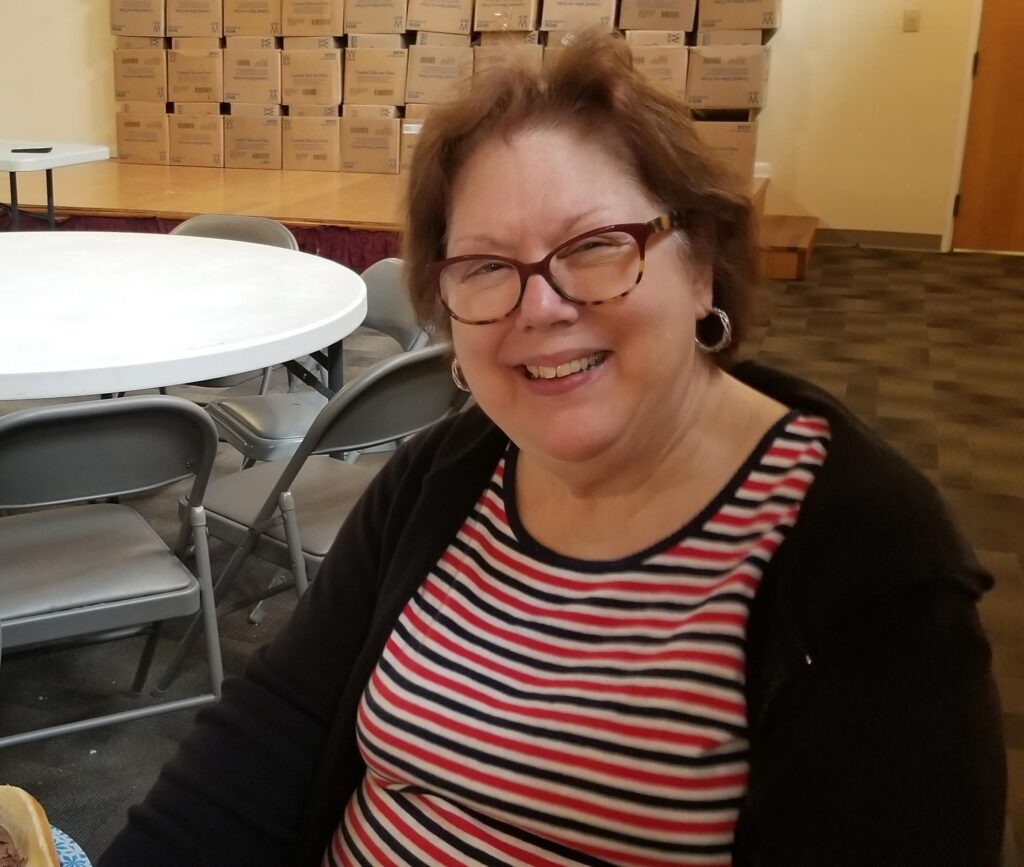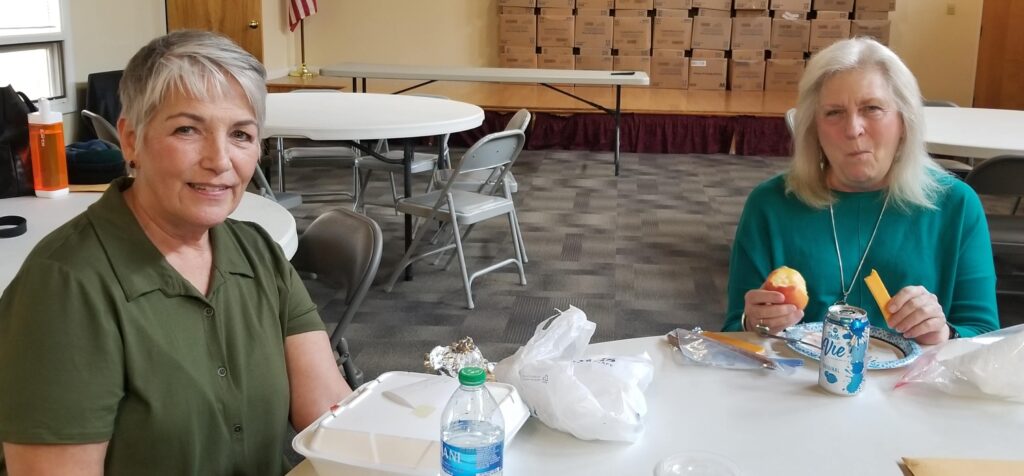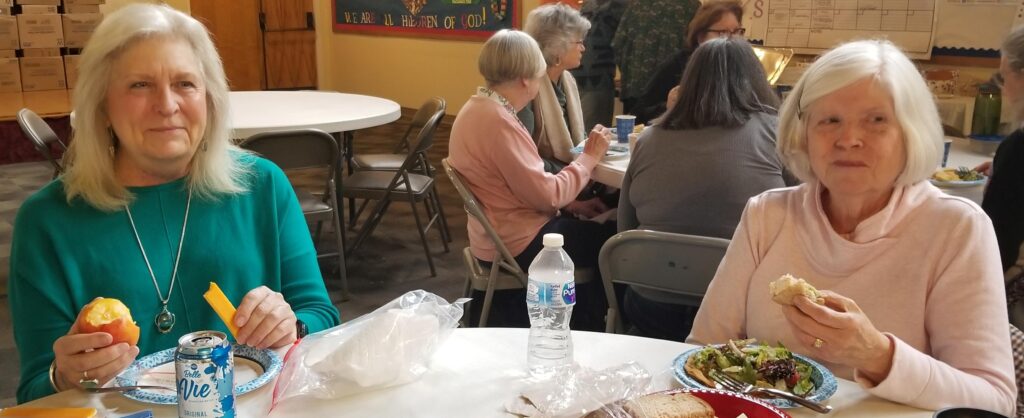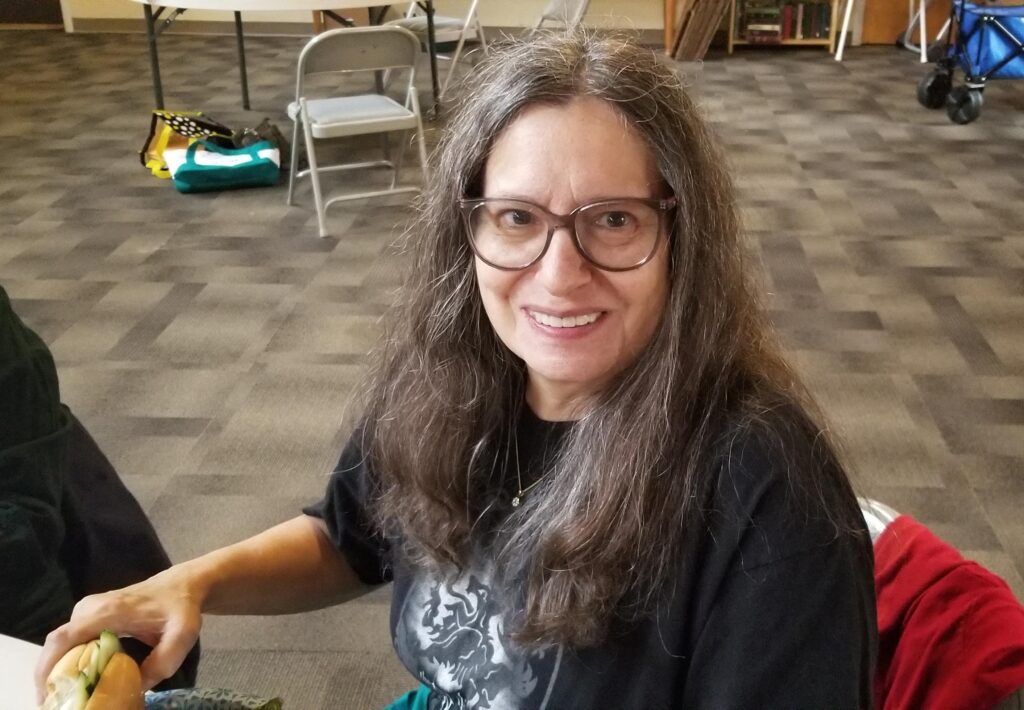 Tapestry 2022: Saturday, December 3rd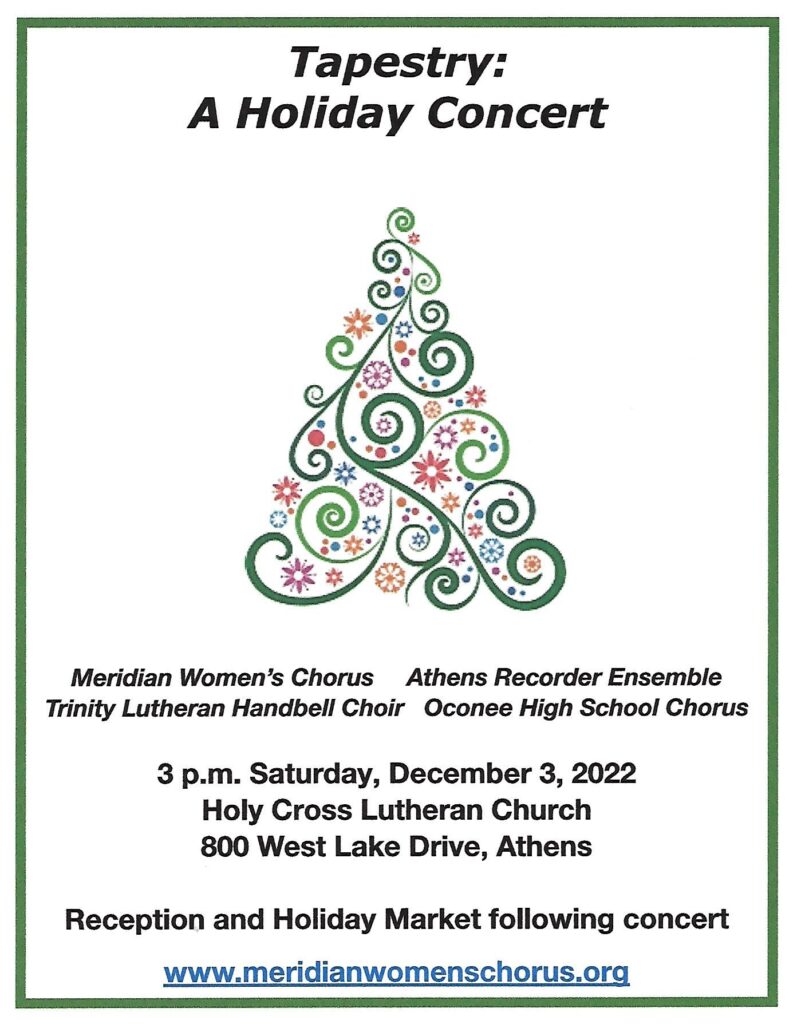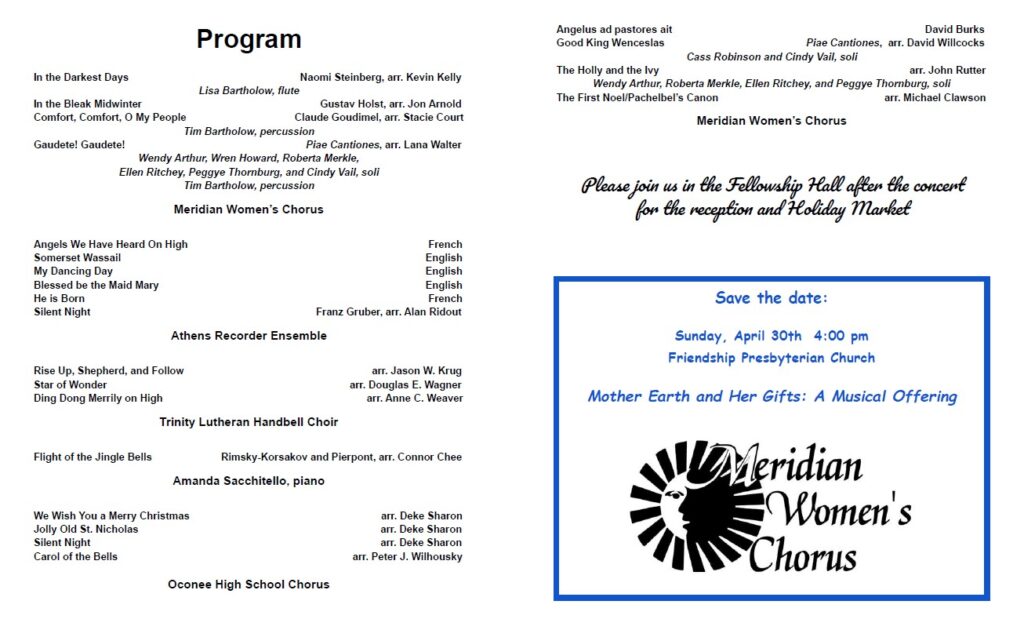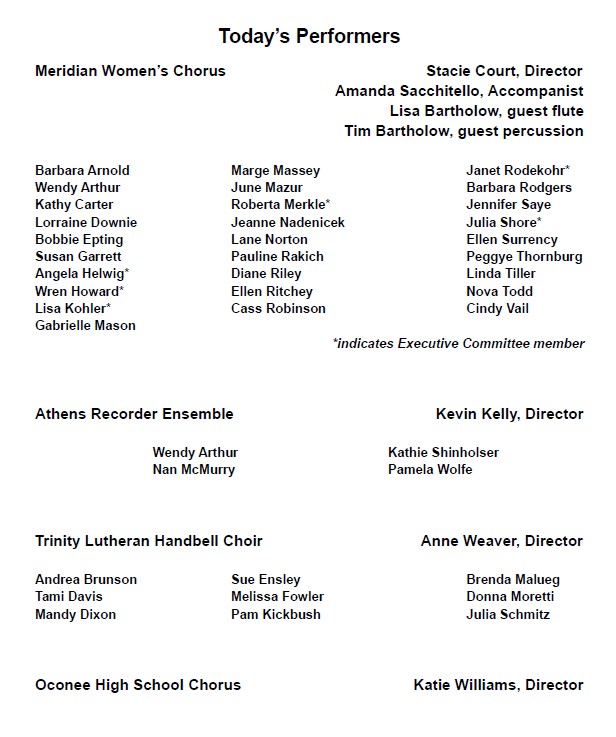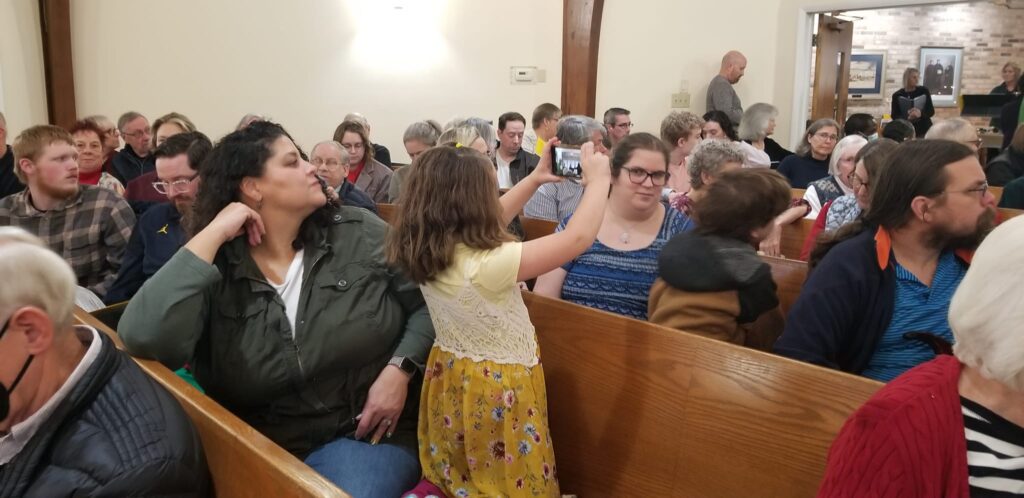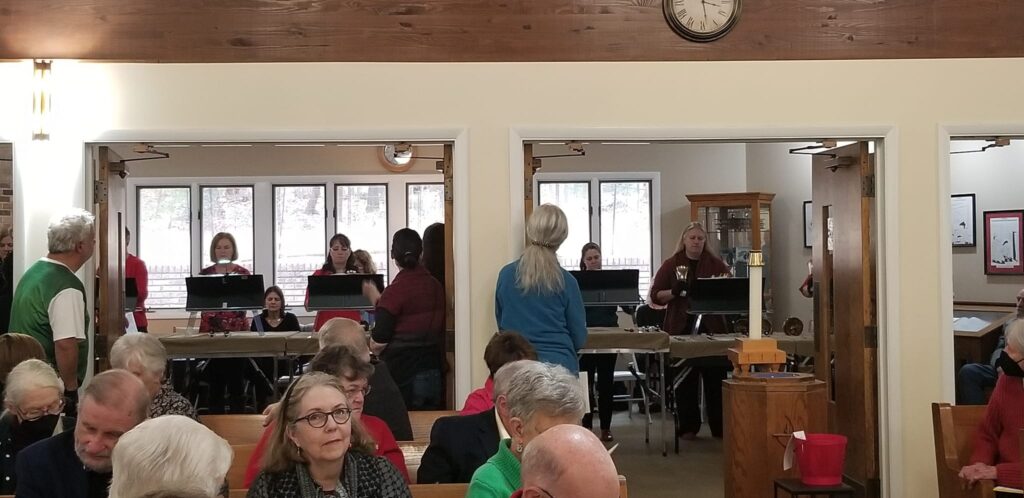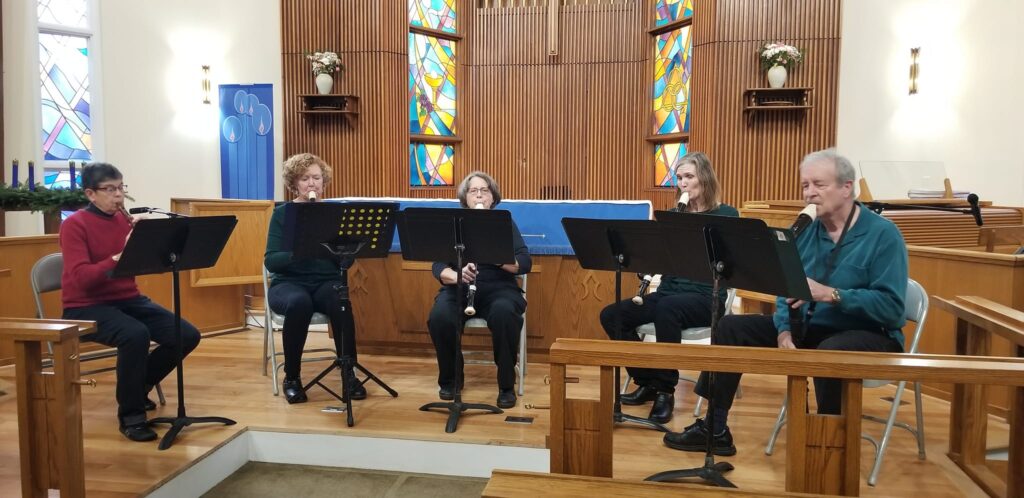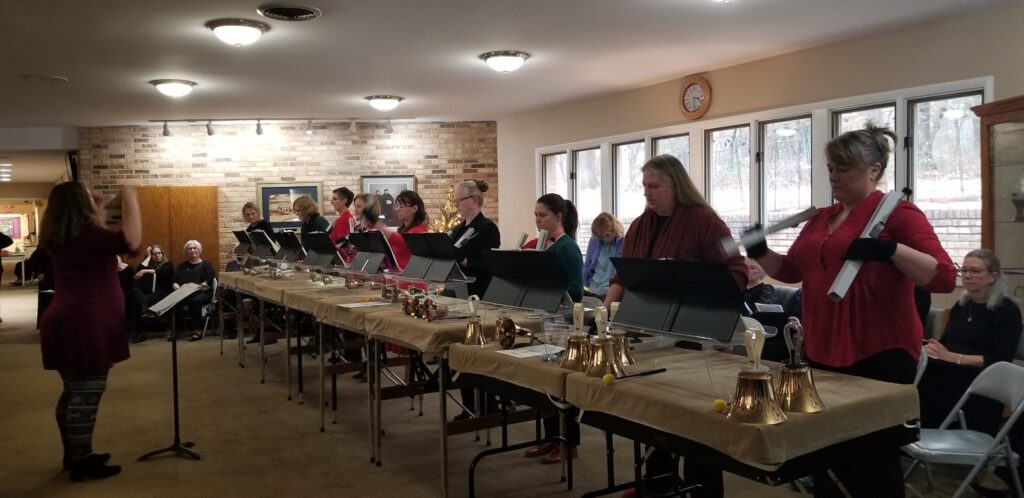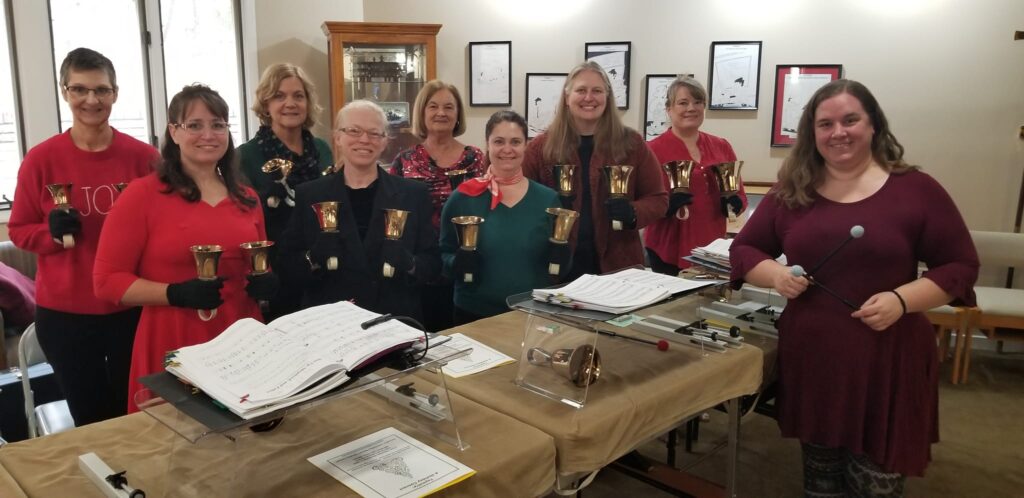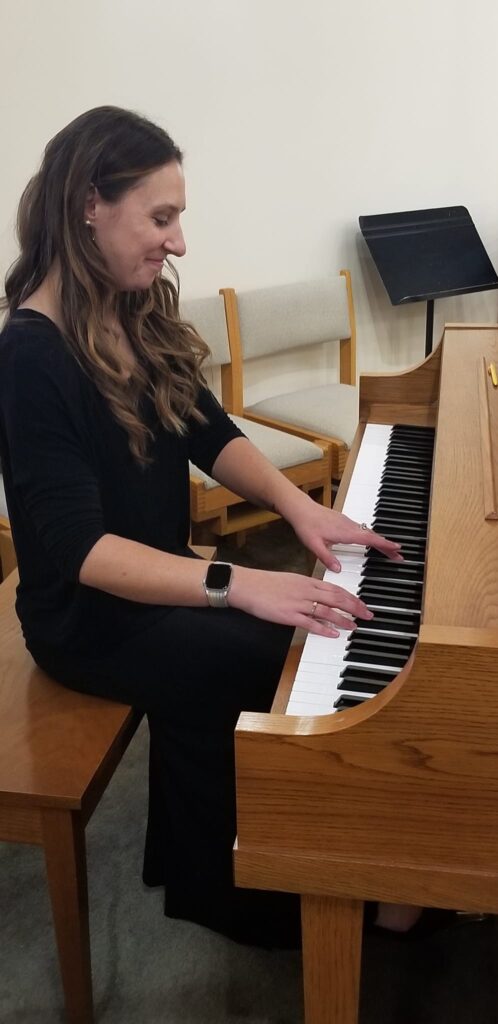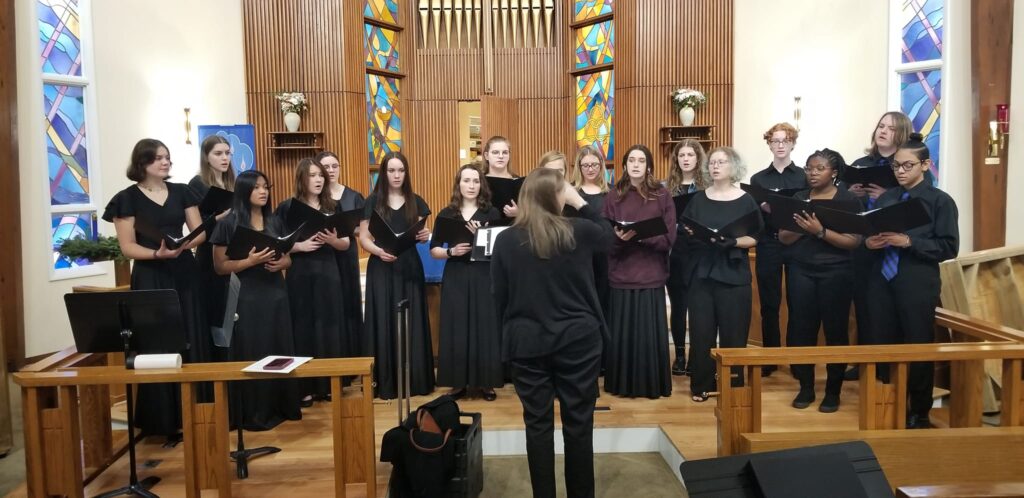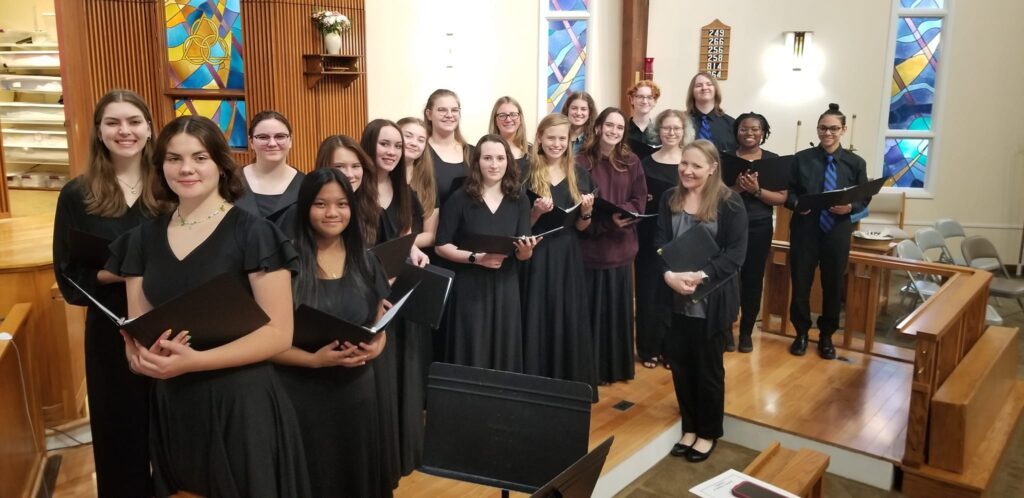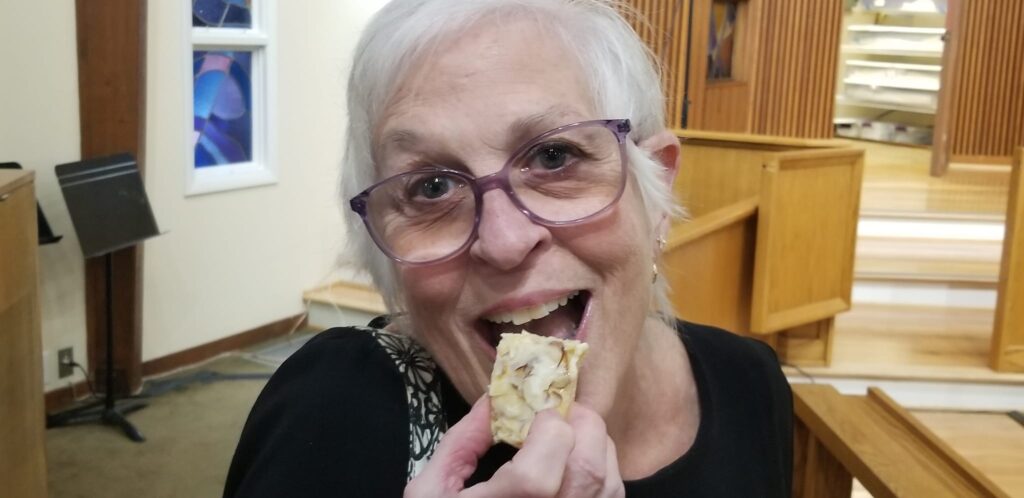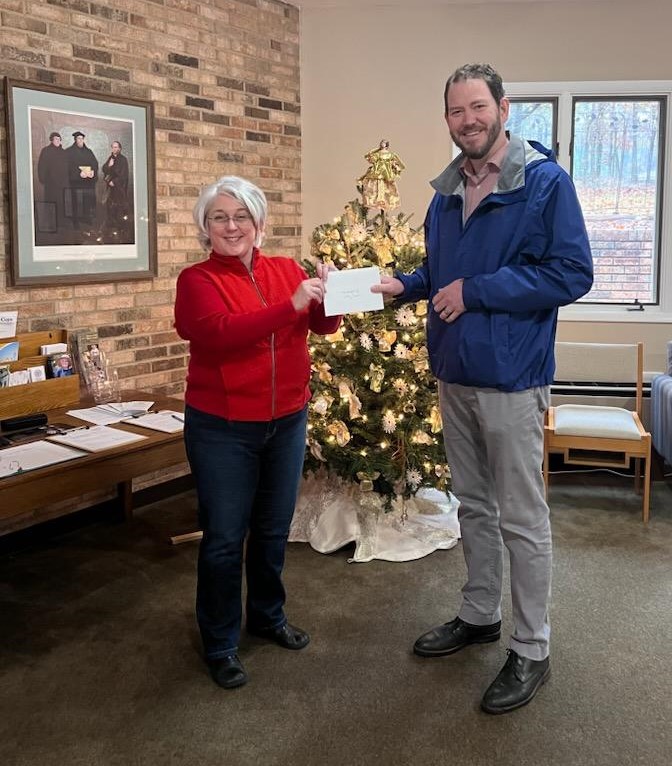 Halloween 2022–What a Ghoulish Rehearsal!